The International Network of Engaged Buddhists (INEB) has been publishing the journal Seeds of Peace for over 30 years and has now amassed a large archive of unused paper copies. As a record of socially engaged Buddhism, Seeds of Peace is filled with inspiring articles and stories from grassroots activists working across Asia and the world. In collaboration with Thai artist Kamin Lerchaiprasert, INEB and the Spirit in Education Movement (SEM) designed 'Sculptures of Peace' – an upcycling workshop utilizing Seeds of Peace as raw material for papier mâché sculptures.

Workshop Objectives:
1) To encourage mental and spiritual wellbeing for people from Myanmar through artistic expression.
2) Utilize the Seeds of Peace archive as material for contemplation and creativity.
3) Explore the potential of using Seeds of Peace as a form of psycho-social support for future implementation.

Activity Report:
Ajahn Kamin Lerchaiprasert facilitated the 2-day workshop (March 4-5th, 2023) at his studio connected to the 31st Century Museum of the Spirit located near Wat Umong in Chiang Mai, Northern Thailand. After group introductions, Ajahn Kamin gave a short lecture highlighting the role of meditation and contemplative practice in his artistic process. Examples of his past work were shared with the group including paintings, photos from international exhibitions, and a papier mâché sculpture inspired by an article he read about Thich Nhat Hanh from a recent issue of Seeds of Peace.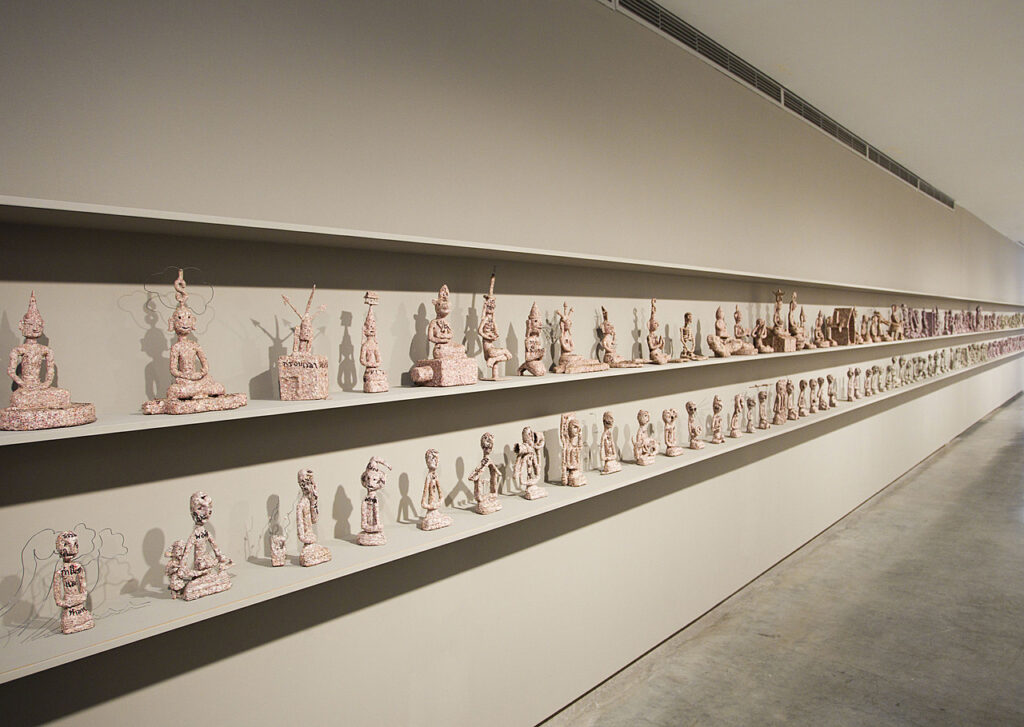 Ajahn Kamin next shared with the group his sequential process for creating papier mâché sculptures beginning with finding an article of interest in the newspaper, or in this case, Seeds of Peace. A sketch is then made in charcoal based on the feeling generated by reading the chosen article. This sketch becomes the basic reference point for the three-dimensional papier mâché sculpture.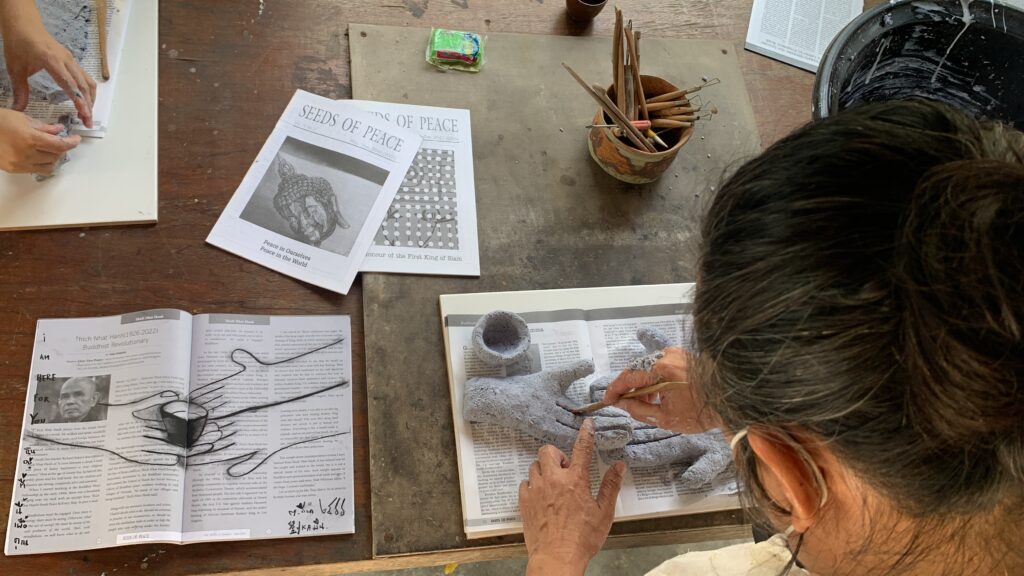 After lunch, participants were instructed to begin leafing through the large collection of forty backdated Seeds of Peace issues from 1991-2022 that had been laid in the center of the room. Having selected impactful articles, participants shared their drawings and feelings with the group. Ajahn Kamin provided feedback on these works to help participants more closely engage with the sentiments they had expressed. This proved to be a moving activity and important opportunity for deep listening for all involved.

Before the day ended, participants began preparing the Seeds of Peace for papier mâché by tearing issues into small pieces that were then soaked overnight in water. While ripping the paper many laughs and causal conversations were shared between participants in a playful and uplifting mood.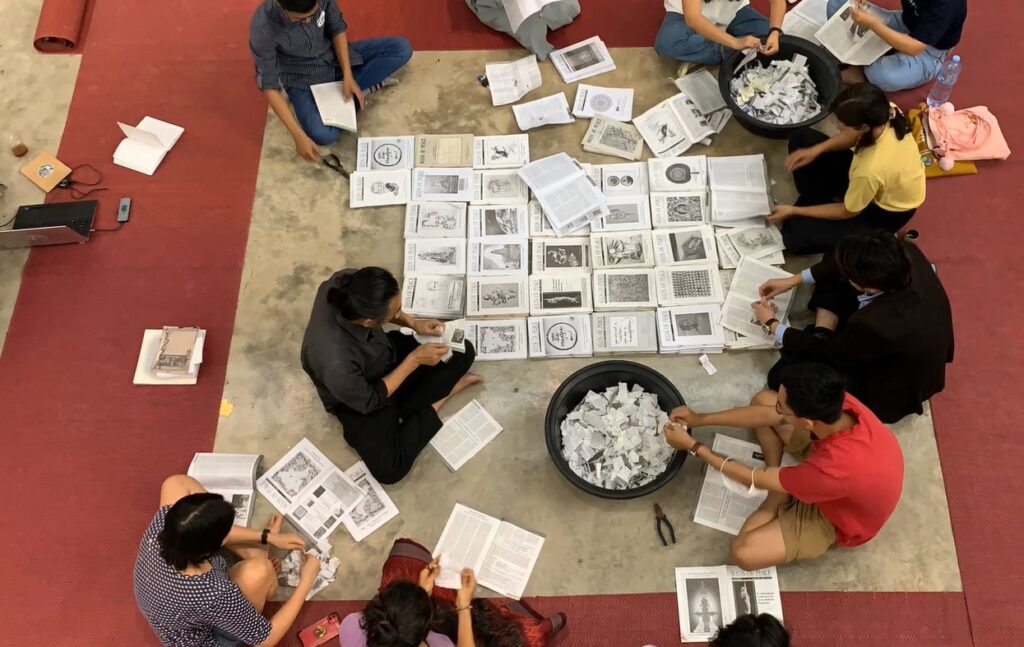 The second day was more hands on with participants first helping to mix large amounts of soaked and blended paper with art glue to form the basic paper mâché material. Using the previous day's sketches as their guide, sculptures began to take form with participants working on tables beneath a small kuti (hut) on the studio's property. After lunch, finishing touches were added and the sculptures that were set aside to dry.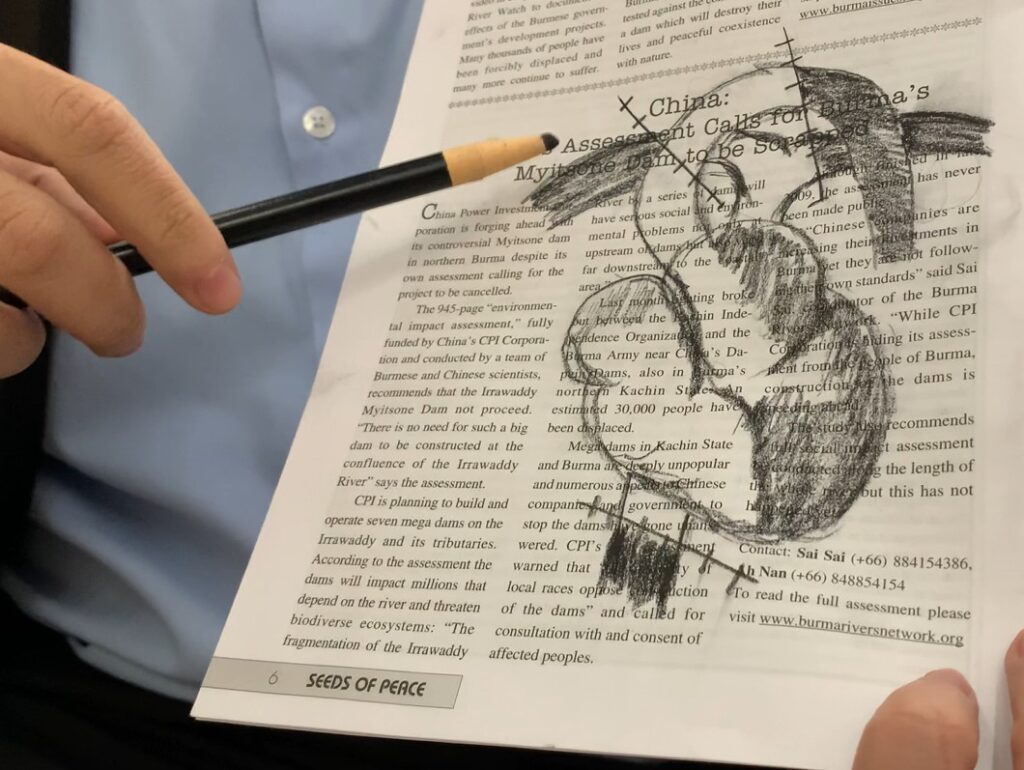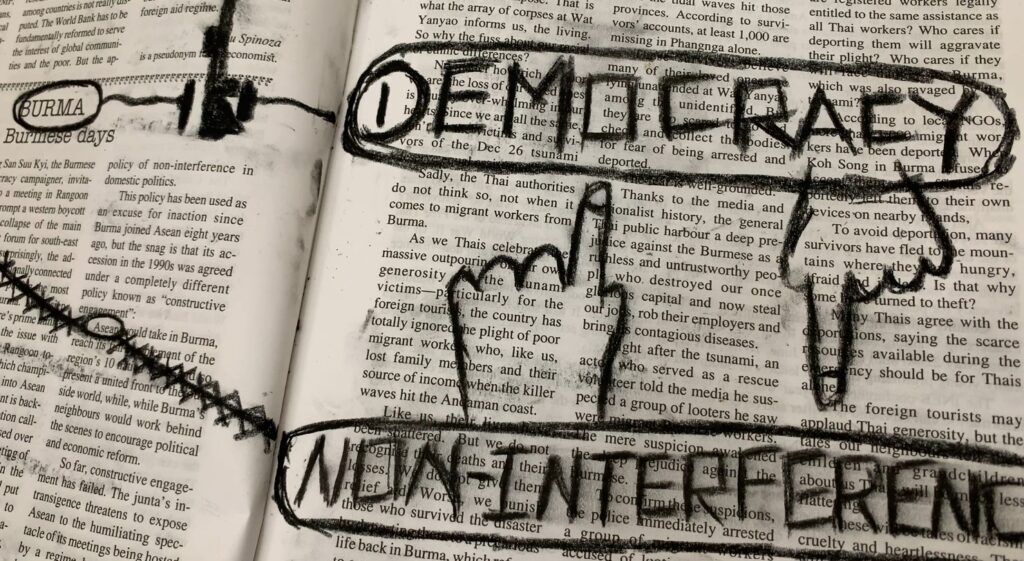 When interviewed at the close of the day, one participant expressed his enjoyment of the workshop as an opportunity to connect with memories of Myanmar through a creative medium. Another participant shared that her understanding of the text deepen considerably as she engaged with the Seeds of Peace both intellectually and physically. A third participant from Myanmar felt that the drawing exercise was a particularly powerful means of visualizing his lived experience and was surprised to find the Seeds of Peace acting as a supportive prompt.
Future Plans:
–        A permanent exhibition of the works will be set up at the INEB office in Bangkok in tandem with an open catalogue of the Seeds of Peace archive.
–        Coordination with schools and organizational partners of SEM and INEB will be arranged to explore more opportunities for workshops and psycho-social support with the Myanmar community.   
–        Get in touch if you would like to work with the Seeds of Peace archive in a creative capacity, collaborations are warmly welcomed 😊 ([email protected])