This past year I had an exciting opportunity to coordinate a new initiative which was made possible with generous funding from Join Together Society (JTS) Korea. The Female Sangha Initiative for Social Transformation in SEA empowered Buddhist women to be more actively included in social, cultural and environmental activities. The selected applicants were from eight organizations and one small group in four countries: Bangladesh, Indonesia, Myanmar and Thailand. The nine projects commissioned were very diverse in nature as they were designed to meet the needs of local communities at the grassroots level. The types of projects intersected the areas of development, women's empowerment, interfaith relations, and natural healing. A total of 35,000 USD funded the projects that direct benefited 2,929 people and indirectly impacted another 104,704 persons.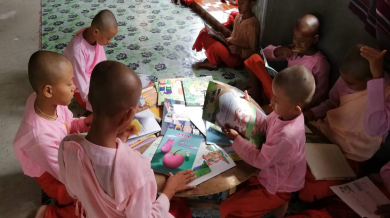 Personally, I found the initiative to be very fulfilling in terms of what was accomplished and the impact it has had. There were many challenges to overcome, not least the Covid-19 pandemic that continually disrupted schedules and processes. My experience with INEB helped me to be compassionate, more understanding and patient as project facilitator. The learning experience was also valuable, as I formed new relationships with partners and was able to motivate and support them throughout the process.
We deeply appreciate our partners' commitment and dedication despite challenges and difficult circumstances. Without you, implementing the initiative would not have made it this far. Personally, I would like to thank JTS Chairman Ven. Pomnyun Sunim for his vision and extraordinary generosity, and JTS coordinator Younmi Kim for her patience and flexibility.
This year's Female Sangha Initiative has been a pioneering effort which impacted many lives. I'm extremely grateful for everyone's support and believe it is possible to have an even broader impact if this type of initiative receives additional funding. We look forward to collaborating on future projects that continue to support the empowerment of women throughout the Southeast Asia region.
Opor Srisuwan, 17th December 2021