The Buddhist humanitarian relief organization Join Together Society Korea (JTS Korea), founded by the renowned Korean Seon (Zen) monk Venerable Pomnyun Sunim, working in cooperation with the International Network of Engaged Buddhists (INEB), has distributed US$50,000 in COVID-19 emergency relief aid to vulnerable and hard-hit communities in South and Southeast Asia.
"Most developed nations have taken huge economic hits as a result of the pandemic, while developing nations have experienced serious economic devastation that has led to the collapse of basic social services," JTS Korea told Buddhistdoor Global. "In response, JTS Korea donated US$50,000 to INEB, which has been distributed to 12 aid agencies in Bangladesh, India, Myanmar, and Nepal—four countries that have been especially impacted by the pandemic—to purchase food and hygiene supplies for 4,434 families, or 23,140 people living in 94 regions.

INEB has set up a wide range of projects and outreach programs aimed at overcoming suffering through the practice of the Dharma and social engagement. Early this year, in response to the unfolding pandemic, the group leveraged its global reach to launch the Mindful Action: COVID-19 Emergency Relief Fund, to bring much-needed relief to vulnerable and underprivileged communities during the global coronavirus crisis.*
"The Mindful Action: COVID-19 Emergency Relief Fund is supporting emergency relief efforts in Bangladesh, India, Myanmar, and Nepal—countries with the greatest need during this time of crisis," INEB secretary Somboon Chungprampree told Buddhistdoor Global. "I'd like to thank the wonderful generosity of JTS Korea, who have helped us to provide basic necessities to some of the most marginalized and vulnerable groups in these countries."
Headquartered in Bangkok, INEB was formed in 1989 by the prominent Thai academic, activist, and social critic Sulak Sivaraksa and a group of Buddhist and non-Buddhist thinkers and social activists. The aim of the organization is to connect engaged Buddhists around the world, to promote understanding, cooperation, and networking among inter-Buddhist and inter-religious groups, and to actively address urgent global issues such as human rights, conflict resolution, and environmental concerns.
Since setting up the relief fund, the INEB has been working closely with the Atish Dipankar Society (ADS) and Parbatya Bouddha Mission (PBM) in Bangladesh; the Nagaloka Relief Fund, the Foundation of His Sacred Majesty (FHSM), the ADECOM Network, and the Buddhist Relief Fund in India; the Kalyana Mitta Foundation (KMF) and Phaung Daw Oo (PDO) monastic school  in Myanmar; and the Nepal Buddhist Federation (NBF) in Nepal.
"These agencies have long operated as NGOs in their respective countries, providing assistance to those living in extreme poverty," said JTS Korea. "Because food shortages are the biggest adversity faced by many of these people, most agencies have focused their efforts on delivering 15–30 days worth of food and hygiene supplies."
At the time of writing on 20 November, total global confirmed COVID-19 infections were reported at just under 57 million, with 1.4 million deaths so far recorded and 36.6 million recovered.** Public health experts in the US have estimated the COVID-19 mortality rate at about 0.6 per cent—six times higher than for typical seasonal influenza outbreaks—however data remain inconclusive due to variations in COVID-19 testing procedures in different countries, and differing methodologies for classifying and reporting COVID-19 as a cause of death.
"Many day laborers in Bangladesh have been facing hunger due to COVID-19. ADS and PBM have provided essential food items, such as rice, oil, potatoes, and salt. They also delivered hygiene supplies, such as soaps and face masks. Some of the recipients shed tears of gratitude as the volunteers arrived to deliver the goods," JTS Korea explained.
"India saw close to 100,000 new COVID-19 cases per day at one point, and many blue-collar, low-income, and migrant workers lost their jobs and have been forced to move to rural areas where the cost of living is lower. Their most serious problem has been obtaining food. Those who cannot provide proof of residency cannot receive government aid, and even physically reaching government offices to receive aid during lockdown is challenging. Six agencies—Nagallo COVID Response Team, AMBA, FHSM, ADECOM, YBS, and the Manuski Trust—are operating across India to deliver assistance, food, and hygiene supplies to remote areas."
"In Myanmar, KMF visited eight refugee camps and delivered COVID-19 notices, soaps, hand sanitizers, mosquito nets, raincoats, and educational books for children and young adults. KMF also visited PDO to install 10 washstands and deliver food and hygiene supplies for students and school officials," said JTS Korea.
"In Nepal, dayworkers and people living in shanty towns have faced great challenges from lockdowns. High population density and a lack of proper preventive measures have made shanty towns especially vulnerable to COVID-19. Volunteers from Bikalpa delivered much-needed food items. Chokgyur Lingpa Foundation volunteers highlighted one particularly memorable occasion when they delivered supplies to two widows who had no family or relatives to help support them."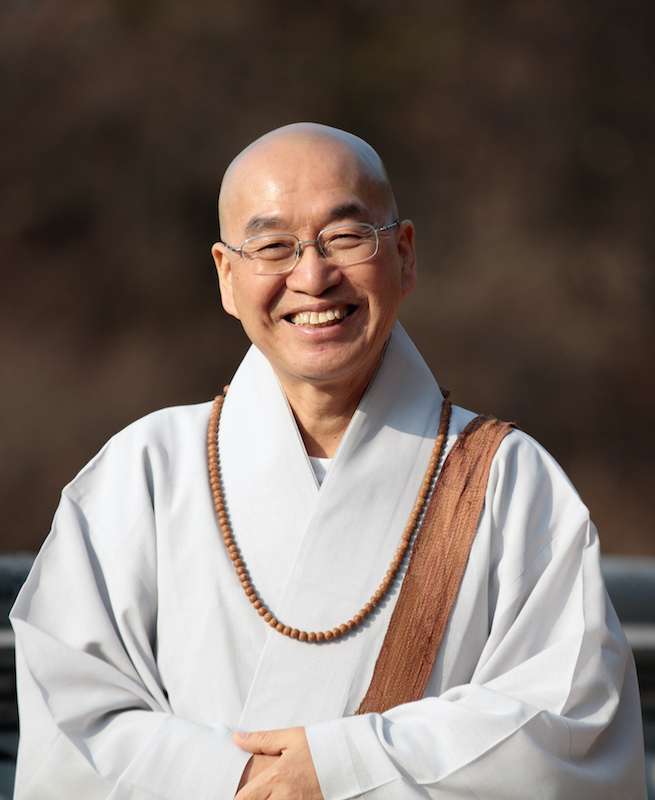 Ven. Pomnyun Sunim, a widely respected author, Dharma teacher, and social activist in his native South Korea, has founded numerous organizations, initiatives, and projects across the world. Among them, JTS Korea is active as an international aid organization, working to eradicate poverty and hunger through humanitarian relief and sustainable development, while Jungto Society is a volunteer-based community founded on the Buddhist teachings and dedicated to addressing modern social issues that lead to suffering, including environmental degradation, poverty, and conflict.
In August, JTS Korea, in cooperation with the United Nations World Food Programme (WFP), provided 10,000 items of personal protective wear for Rohingya refugees living in camps in Cox's Bazar, Bangladesh. In April, JTS Korea donated a consignment of PPE to medical staff at the Northern Mindanao Medical Center in the Philippines, consisting of 400 coveralls, 250 N95 masks, 200 eye shields, and 3,000 surgical masks.