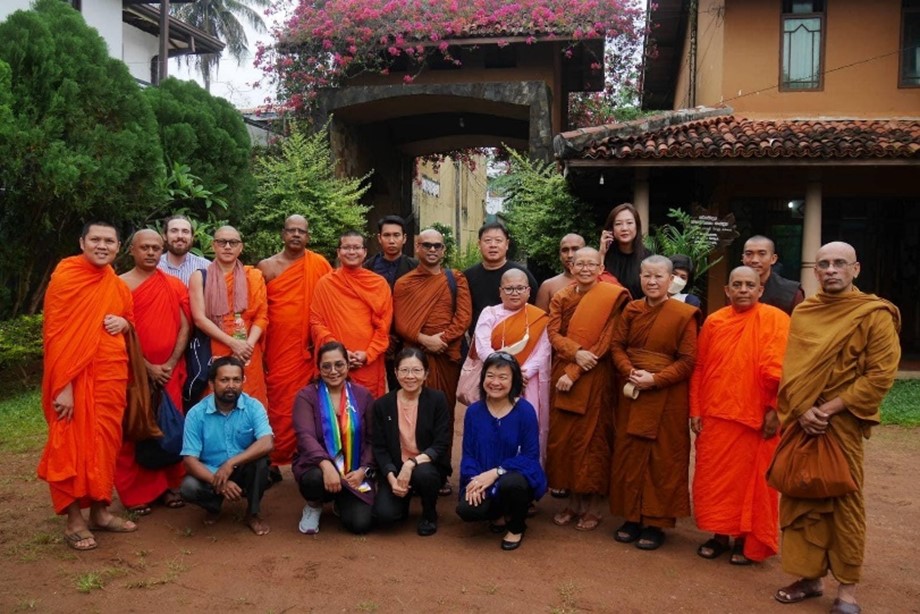 The Regional Network for Peacebuilders (Sangha for Peace), convened by the International Network of Engaged Buddhists (INEB) with support from USAID and FHI360, bringing together Peacemakers from the Buddhist communities in Myanmar, Sri Lanka and Thailand successfully completed the meaningful country learning mission to Sri Lanka from the December 2-10, 2022.
This was the second country learning mission following the first one held in Thailand 6 months earlier. Eighteen Sangha for Peace participants and four INEB secretariat team members made up the group, which consisted of male and female monastics, cisgender persons and members of the LGBTQIN+ communities. During the nine day learning mission in Sri Lanka, the group was privileged to engage with many social, ethnic, religious, and gender groups, all of whom offered warm welcome and hospitality. The experience was further marked by the spirit of kalayanamitra and exceptional willingness from all sides to engage in open dialogue on challenging issues, as well as to share relevant experiences and perspectives. One key factor attributing to the learning mission's success is the fact that Sangha for Peace team is a diverse group of people who have already built a trusting relationship and mutual respect. And, the group has solid understanding regarding Gender Equality and Social Inclusion from the workshop offered by International Women for Peace and Justice during the first country learning mission in Thailand. Sangha for Peace members do not shy away from bringing important issues to the table for a critical dialogue to take place.
All fourteen main activities during the second learning mission in Sri Lanka touched on all five curriculum modules, i.e., Buddhism, violence, and nationalism; intrafaith and interfaith dialogues; gender equality and social inclusion (GESI); community engagement; and peace in action. These modules often intersected within each activity.
Our nine-day learning mission:
December 2 – Sangha for Peace members gathered for their second learning mission at Sarvodaya Vishwanikethan. The first day was spent catching up with Sangha for Peace members, who shared with each other what they had done in the past six months since the first country learning mission. Many members were able to connect what they learned in Thailand to the work they did in their communities.
On the evening of December 3, we visited Dr. A.T. Ariyaratne in his humble home. Many participants were inspired by Dr. Ari's and his wife's warm presence and delighted in the unique opportunity to converse on various topics with them.
December 4 – We heard a presentation from their son, Dr. Vinya Ariyaratne about the historical analysis of nation building through Sarvodaya civil movement. Following the presentation, participants had an opportunity to offer labor dana at Sarvodaya Shanti Sena as well as engaged in conversation with interfaith youth there.
December 5 – We spent a day at Walopa Rahula Institute, where long-term INEB kalayanamitra Ven. Galkande Dhammananda and his team of dedicated volunteer staff graciously welcomed our group. There, our Sangha for Peace members delved into deep discussion about the Institute's exemplarily inclusive policies and later met and had a lively conversation with inter-faith leaders of Religions for Responsible Governance. For the whole day, we all sat in the garden area underneath lush green trees, enthusiastically discussing social justice matters, an experience hard to forget for many.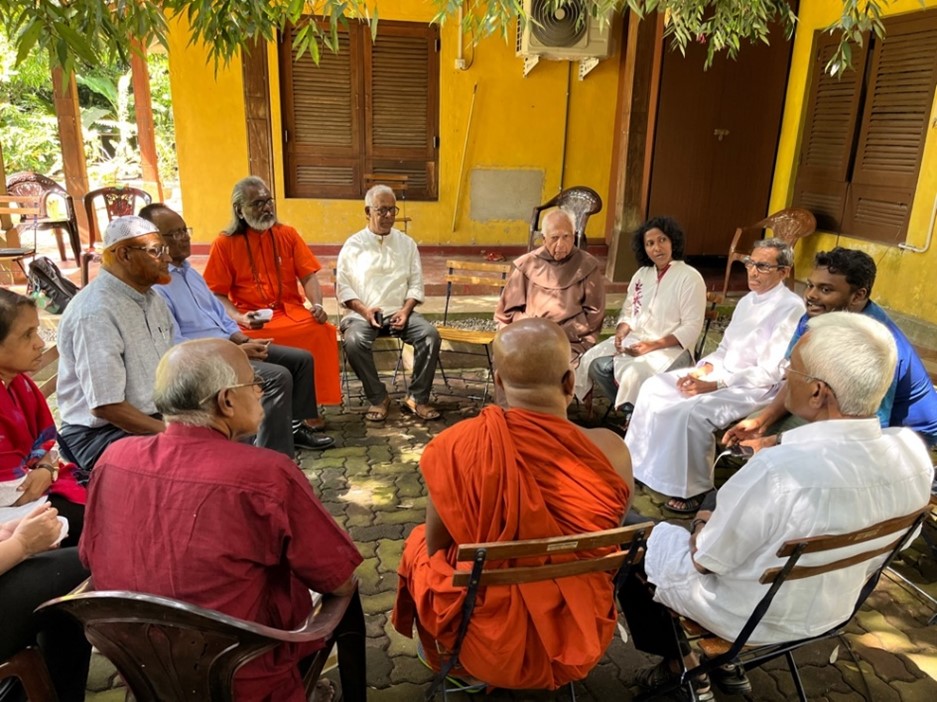 The day after, on December 6, we went to the Parliament of Sri Lanka where the Honorable speaker of the house, along with other parliament members, engaged us in conversations about inclusive public policy that protect human rights and human dignity. The discussion found way to focus on Bhikkhunis' challenges such as not having an I.D. card to carry. The parliament also graciously provided luncheon for the group. The afternoon after Parliament, we visited the Easter Bombing site at St. Anthony's Church, with Father Perara leading us on a walking tour. We then had a sit-down talk with human rights activist and Niwano prize winner Ruki Fernando.
The next day's program (December 7) began with the visit to Center for Peace Building and Reconciliation. At CPBR, each one of us was inspired by how decades of peace work has been sustained in a holistic and healing way. From there, we went to visit Zam Zam Foundation. After enjoying the luncheon Zam Zam generously provided, we engaged with our Muslim brothers and sisters in open dialogue about discrimination and social inclusion.
December 8 – Our Sangha for peace members visited the peaceful campus of Buddhist Pali University and engaged in some open dialogue about Buddhist studies with faculty members and students there.
December 9 – The final big event for the learning mission was the first-ever community hearing meeting on Gender Equality and Social Inclusion, hosted by senior Buddhist religious leaders of Amarapura Nigaya. Understanding the significance and sensitivity of this unprecedented gathering, we invited some of the leaders of marginalized groups to meet with us to get to know each other before the event. These evening meetings with Tamil leaders and with LGBTQIN+ leaders were significantly transformative for a lot of Sangha for Peace members. The discussions were intense and at some points difficult.
On the day of the big event, more than a hundred people showed up. Many spoke about the challenges they face daily as marginalized people. Their strength and courage were undeniable, and their messages clearly heard. At a press conference following the community meeting, our Sangha for Peace team introduced ourselves as a group of Buddhist peace builders who believe in gender equality and social inclusion. Four of our team members each gave a brief statement to the press.
Lastly, on December 10, all of us went to support the bhikkhuni ordination where a total of nine bhikkunis were ordained, six of them were from Thailand and three from Sri Lanka.
The country learning mission had a packed schedule, but there were a few moments where we experienced some cultural events such as the sunset stroll by the beach in Beruwala or the visit to Bellanwila Temple during the full moon night. During the daily reflection, participants expressed how they valued the opportunity to engage with a local community and highlighted how it invited them to look within themselves and transform their own misconception about others, and consider the big picture of their work in their own communities. Participants look forward to seeing each other again for the third country learning mission in April 2023. Meanwhile, they plan to share what they learned from the Sri Lankan program with their community members.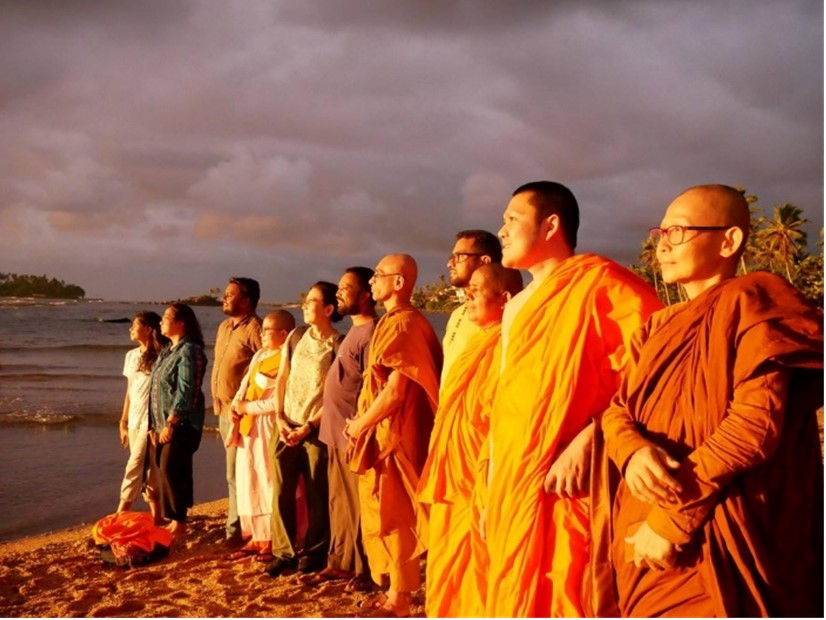 Special thanks to our Sri Lanka coordinator Suchith Abeyewickreme for skillfully putting the program together and connecting with every stakeholder with respect and positive attitude. Lastly, the program wouldn't have been a great success without Sangha for Peace members' full presence and genuine commitment to peacebuilding.