[et_pb_section fb_built="1″ admin_label="section" _builder_version="3.22″ custom_padding="0px|||||"][et_pb_row admin_label="row" _builder_version="3.25″ background_size="initial" background_position="top_left" background_repeat="repeat"][et_pb_column type="4_4″ _builder_version="3.25″ custom_padding="|||" custom_padding__hover="|||"][et_pb_text _builder_version="4.8.2″ _module_preset="default"]
Celebrating Ajahn Sulak Sivaraksa's 90th Birthday
[/et_pb_text][et_pb_text _builder_version="4.8.2″ _module_preset="default" custom_padding="||0px|||"]
The well-known Siamese intellectual, social activist, author, and founder of the International Network of Engaged Buddhists (INEB), Ajahn Sulak Sivaraksa, will turn 90 years of age on March 27, 2023. In honor of this auspicious time we celebrate how his life has touched ours, as well as many others. The tributes and birthday greetings received from Ajarn Sulak's many friends and colleagues from around the world are shared here for you to read.
Below you will find a wonderful playlist series spotlighting Ajahn Sulak's life and work in his own words recorded by friends at StudyBuddhism.
[/et_pb_text][et_pb_image _builder_version="4.8.2″ _module_preset="default" custom_margin="-3px|||||" custom_padding="||0px|||"][/et_pb_image][et_pb_video src="https://youtube.com/playlist?list=PLb6E0X4qfeEv5hQUKqNeR4RKS-wD5DQgY" _builder_version="4.8.2″ _module_preset="default" custom_margin="-37px|||||"][/et_pb_video][et_pb_accordion _builder_version="4.8.2″ _module_preset="default" hover_enabled="0″ sticky_enabled="0″][et_pb_accordion_item title="Hozan Alan Senauke" open="off" _builder_version="4.8.2″ _module_preset="default"]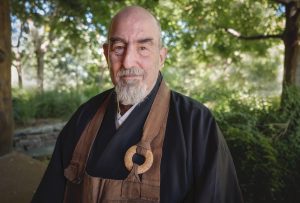 Bowing to Ajahn Sulak
Hozan Alan Senauke
Berkeley, California—July 2022
In February of 1992 I left Berkeley to attend the fourth conference of the International Network of Engaged Buddhists (INEB) in Thailand. At the Zen Center gate that morning I embraced and bowed to Sulak Sivaraksa, who was staying with us. He was once again in exile from Thailand—or Siam, as he refers to it—a year into its latest military coup. There was an uncomfortable irony in going to Sulak's country, staying at his home in Bangkok, while he was in Berkeley. It would be another year before Sulak could return to Thailand and several more years before he was acquitted of medieval charges of lèse-majesté , for reportedly insulting the king.
From first encounter I found my own spiritual and political home in INEB. As director of Buddhist Peace Fellowship, I knew immediately that INEB was to be my close circle of dharma sisters and brothers. It was also clear that INEB was Sulak's vision, that he stood in the middle of the circle, and that he uniquely had the respect and the breadth of contacts to create such a network.
Over the years I have come to refer to him as Ajahn Sulak, a term of honor and respect for a true teacher. Working on his memoir—Loyalty Demands Dissent—my wife Laurie and I became familiar with the arc of Sulak Sivaraksa's life, and the principals of dharma, democracy, and spiritual friendship from which he has not strayed in his ninety years. Often I have received a late night phone call from him just to make contact as he travelled through the U.S. When visiting us in Berkeley, which used to be a frequent occurrence, I have seen Ajahn Sulak sit down at the kitchen table, pull out his worn address book and systematically call his local friends.
Before we met, I had read proofs of his book Seeds of Peace, which in 1992 was published by Parallax Press, where I happened to be working. It was exciting to encounter his brilliant critique of modernity and his articulation of an inclusive engaged Buddhism that respected its Theravada and Mahayana roots, and articulated a vision that understood the twining of personal suffering and the structures of greed hatred, and delusion that we weave into whole systems of suffering.
Over the last thirty years, I have worked closely with INEB and with Ajahn Sulak, through so many of the crises that beset our world. Admittedly, we have not always agreed on things large and small, and we have had our clashes and arguments. At the same time, connection and respect between us was never severed. I am keenly aware that much of the richness of my engaged Buddhist life has come to me through Ajahn Sulak—friends or kalyanamitta, ways of thinking about our troubled world, organizational contacts across so many borders. There is so much I would not otherwise have encountered.
Now Ajahn Sulak has come to the age of ninety, and I'm nearly seventy five, considerably older than he was when we first met. Sulak Sivaraksa is still making good trouble, and I am honored to stand beside him, always to watch and learn.
[/et_pb_accordion_item][et_pb_accordion_item title="Anchalee Kurutach" _builder_version="4.8.2″ _module_preset="default" open="off"]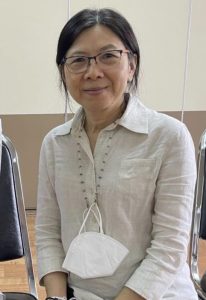 Ajarn Sulak,
In the past 30 years of our acquaintance, you have been the most significant beacon of light in my socially engaged Buddhist life. I am in awe of your strength and endurance to keep on standing upright in a world full of deceit and violence. And how truly remarkable it is that your steadfast faith in the power of the dharma never falters! You speak the truth and you walk the talk.
At 90 years old, you are still engaged with the world and care deeply for the welfare of society and its people. Sure, you have slowed down physically, but your mental capacity is only reduced by a barely noticeable fraction. Your commitment to right livelihood and to social justice remain solid. Besides, instead of holding on to the old ways, you have embraced the new communication styles of today's digital age! As in your numerous books before, now in each episode of your broadcast, your immediate knowledge and wisdom regarding various topics is above and beyond what is the norm. And perhaps more than anyone in your generation, you never fail to recognize the potential of youth and the resiliency of the marginalized. Your attitude and perspectives always reflect this. What valuable and beneficial gifts you have bestowed upon us and the future generations!
The network of people and organizations that you have helped found are thriving and taking on lives of their own. They play important roles in bringing alternatives to consumerism, structural violence and environmental destruction. Your legacy is long and impactful. This year, in October 2022, the International Network of Engaged Buddhists (INEB) will hold its bi-annual conference in South Korea and will celebrate its 20th anniversary there. As one of the most significant networks of socially engaged Buddhists, INEB brings together grassroots groups and individuals from all over the world. It is through INEB that life-long friends and worthwhile efforts are formed, often with you as the connector.
When I first met you in Berkeley, California thirty years ago, you emphasized the importance of kalyanamitra, a term that was not as commonly used as it is now. Over the years, you have shown us what it means to be a true friend. Your big heart always has space to embrace others across generations, cultures and even ideologies. No friends are too young or too old. No misunderstandings or even insults are taken personally. You welcome people into your home and give them the most precious gift of your time and your attention.
On this special occasion of your ninetieth birthday, I have nothing but my love, respect and well wishes for you. May your visions and deepest wishes come true. May your physical and mental health support you all the way for as long as you shall live. Congratulations, Ajarn, for living a more-than-full life and making such a big difference in the world.
With a deep bow,
Anchalee Kurutach
[/et_pb_accordion_item][et_pb_accordion_item title="Ang Choo Hong" _builder_version="4.8.2″ _module_preset="default" open="off"]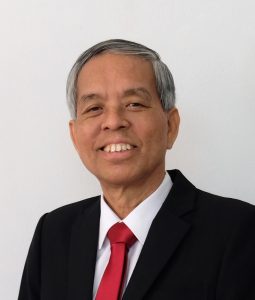 Congratulatory Message on the 90th Birthday Celebration of Ajahn Sulak Sivaraksa
Many years ago, there was a forum on Peace held at the Soka Gakkai Malaysia in Kuala Lumpur. Ajahn Sulak was one of the speakers. I was seated at the far end of the lecture hall, listening to his serious yet witty talk. That was my first encounter with Ajahn Sulak. But before that, I had already read about him.
Later, in 2006, I attended a Buddhist-Muslim dialogue held in Dusit, Bangkok. It was there that I had the opportunity to get closer to him. We spent a few days and nights together discussing the Buddhist-Muslim conflicts in South East Asia. I came to realise that here is a Dhamma-based leader who is dedicating his life to societal transformation based on the Dhamma.
Subsequently, I had opportunities to meet him on several occasions, such as at a Conference on Good Governance in Nagpur in 2016 and an INEB conference in Taipei in 2017.
Saluting the man for his intellectual acumen and fearless spirit in championing his beliefs, I invited him to write a foreword for my humble book Dhamma-based Leadership, which he graciously obliged. It is, in a way, a form of metta and encouragement from a senior Buddhist to a younger one.
During the pandemic, in 2020, I received a book A Study of Buddhist Public Engagement in Thailand and Malaysia, presented to me by its author, Prof. Y. K. Liu. There is a large section in this book dedicated to the role of Ajahn Sulak. The book aptly describes the personality, character, and unwavering commitment of a socially engaged Buddhist leader—Ajahn Sulak.
On the occasion of Acharn Sulak's 90th birthday, an esteemed Buddhist leader, may I wish him Ayu, Varna, Sukkham, and Balam. May Ajahn live long to serve the Sasana and mankind.
Dato' Ir. Ang Choo Hong
INEB Executive Committee
President, Buddhist Research Society Malaysia
Chairman, Young Buddhist Foundation Malaysia
[/et_pb_accordion_item][et_pb_accordion_item title="Venerable Chao Hwei" _builder_version="4.8.2″ _module_preset="default" open="off"]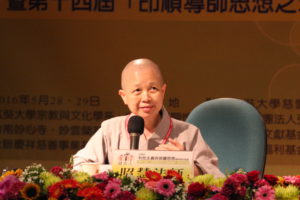 Deep admiration and respect for Ajarn Sulak rises from the bottom of my heart whenever I think of his dedicated pursuit for democratic freedom and social justice over the course of his lifetime. His selfless loving kindness expands beyond the boundaries of gender, social class, religion, ethnicity and country. With practical and concrete actions that embody the Buddhist spirit of compassion, he has helped many underserved communities as well as youth.
The Thai royal family and nobility has long held deep respect for him. Nevertheless, between his personal connection with them and issues of justice, he has always chosen to support the latter, even when this decision has meant he would offend those with wealth and power. Although his forthright admonition has constantly put him under great political pressure and entanglement in lawsuits, he has not withdrawn.
He is loved and supported by the general public and young students alike. However, he never sways from compassion and the Middle Path philosophy of Buddhism, so he neither tries to please any particular group in order to maintain his popular status nor encourage any radical social movements. Over the course of time, this has caused misunderstanding and alienation of his supporters.
At critical moments in history, Ajarn has always chosen to stride forward alone and leave the aura of mundane glory behind. What shines from him is but a different light—the light of compassion and wisdom.
Chao-Hwei Shih
[/et_pb_accordion_item][et_pb_accordion_item title="Craig Reynolds" _builder_version="4.8.2″ _module_preset="default" open="off"]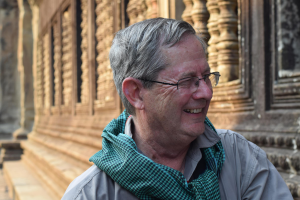 Ajarn Sulak and a Young American Graduate Student
My connection with Aj Sulak goes back more than fifty years. Looking back, I marvel at how many times I have met him in Thailand and Australia, sometimes at his initiative, or when he has turned up unexpectedly at a seminar. I had been a Peace Corps teacher in southern Thailand, and in 1968 when we first met, I had returned to research my PhD thesis on the Buddhist Sangha in the nineteenth century. He thought I should talk to a young monk at the family monastery in Thonburi who had excelled in the Pali examination system, the first of his many suggestions that opened new worlds for me. With his boundless generosity, he extends his hand to the young.
The tumultuous politics of the mid-1970s were not yet on the horizon, but as founding editor of the path-breaking Social Science Review (Sangkhomsat Parithat), Sulak was already energetic in changing Thailand's public culture. At a noisy meeting of the Siam Society Sulak took the lead in shaking up the old guard and changing the composition of the society's committee. In his Suksit Siam bookshop, then at Sam Yan, he convened groups of Thai students and foreign friends to discuss Thailand's current issues. Thai academic publishing was then in its infancy, and I would stop by hoping to greet him and to look over books and journals. New works and translations by Sulak always featured among the titles!
Ajarn Sulak has always occupied a curious place in Thai public life: he is part of the Thai establishment, but that has not kept him from being critical of the establishment. In the early decades he was close to elite royal personages. A photo of him in Thai traditional dress, cane in hand, is a performative pose of aristocratic status. He defended the reputation of Prince Damrong Rajanubhab (d. 1943) against acute criticism that narratives of royal accomplishment had stymied new perspectives on the Thai past.
Yet he has also been critical of the monarchy and repressive regimes. I loved to give a lecture devoted to Sulak's encounters with the authorities after he had defiantly challenged the lese majesty statute. A newspaper photograph shows him smiling from the back of a police van as it carries him off to detention. To my astonishment, one of Sulak's presses issued a Thai translation of my book on Jit Poumisak, a political prisoner from 1958-1964 arrested by the military government.
Ajarn Sulak has always travelled widely, and his international reputation has given him a certain amount of protection when his fearless criticism has landed him in trouble. He belongs to a coterie of global public intellectuals of faith, which includes the Dalai Lama and the late Ivan Illich, Catholic theologian and scholar-activist. In tune with these thinkers, Sulak, a master of manifesto, has said that "only when we are strong enough with our own spiritual and cultural identity will we be able to liberate ourselves from those who enslave us politically and economically."
Canberra, Australia
5 September 2022
[/et_pb_accordion_item][et_pb_accordion_item title="Daniel Johan" _builder_version="4.8.2″ _module_preset="default" open="off"]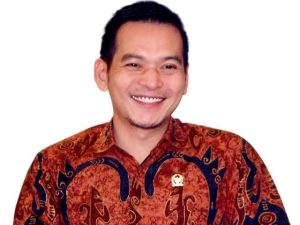 Ajahn Sulak whom I know is someone who has a strong will but with a kind heart and compassionate. As a mentor, Ajahn Sulak has a commitment to support young generation not to stay silent when you can take action based on Dharma.
I was an unrecognised activist when I was young, but Ajahn Sulak didn't hesitate to involve us in the circle of important people, national and international.
His liberating soul and mind are very uniquely Buddhist. He is the example of courage and has no fear of big power, capital power which many people think are untouchable.
He wants to bring about Buddhist style democracy not only for Thailand, but for the world. Buddhist democracy values are equality among the people, prosperity and justice for all, and a society free from greed and hatred.
Ajahn Sulak is an inspiration for young generation, a generation which has no fear of those in power who abuse it.
Happy birthday Ajahn Sulak!
Daniel Johan
Member of Parliament of the Republic of Indonesia.
[/et_pb_accordion_item][et_pb_accordion_item title="Danny Campbell" _builder_version="4.8.2″ _module_preset="default" open="off"]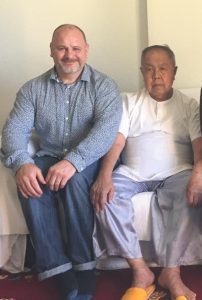 In That We Choose Our Friends
I heard somewhere once, according to some Buddhist myth, that to be born a human being is rare as a turtle in the Pacific, having been asleep for a thousand years, rising from his slumber at the bottom of the ocean to find his head in the yoke of an ox. Such then, might be our friendships.
From the moment I stepped off the train at Hualamphong Station to see a monk float by in his orange robes, shaven head, and serene smile, I knew I had encountered an unlikely land, one so far from my own world as if to be an alien planet. And then there was Ajahn Sulak! It is fair to say I liked him immediately and flatter myself that he liked me too. Whatever it is that someone recognises in another, charisma, passion, camaraderie, it was there in abundance.
Then there is the simple fact that an under-educated, working class, 'bloke' from West London, does not often find a champion in the world he inhabits. It happens but is rare.
'Here, why don't you edit this?' he told me, and 'Why don't you write an article for Seeds of Peace?'
'Who? Me?
'Yes, You,' he said. But what did I know about editing? What did I really know about writing? Nothing then, and only a little more now, but Ajahn Sulak taught me, still teaches me now in my imagination, when I need perspective, or an idea of what is just and true, like Mentor to Telemachus (at least in my fertile mind's eye).
In writing, I owe him everything. As a life teacher, a good deal more.
I could hardly believe it when, during a very civilised supper at his home in Bangkok, he interrupted the steady flow of indulgent conversation with the statement: "I must go to the jungle!' And go he did, right then and there, and I along with him. What followed were perhaps the defining days of my life as we sat meditating in the deep jungle of Kanchanaburi, protesting the construction of the Yadana pipeline from Burma to Siam. They were days of instruction by example. Laden, with a foresight that only now, as part of my home in France has been on fire this summer, and I awoke at three in the morning to find the city of Bordeaux shrouded in smoke, is truly realised.
The choice is always there, to do the right thing, no matter what the monsters of corruption who decimate the voices of reason, hand in glove with corrupt, power-hungry politicians east and west alike will tell you. Choose wisely then, as you go about your daily life with its common or garden hinderances, and perhaps, just perhaps, some kind and brilliant human being, a kalyanamitra, might take it upon themselves to choose you.
Danny Campbell, August 2022
[/et_pb_accordion_item][et_pb_accordion_item title="David Loy" _builder_version="4.8.2″ _module_preset="default" open="off"]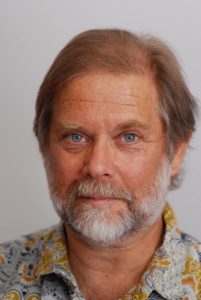 I welcome this opportunity to express my appreciation of Sulak Sivaraksa, who has been an inspiration to me since we first met. I no longer remember the details of that meeting, but it was during a visit to Bangkok in 1979 or 1980, when I was teaching at the University of Singapore.
Ajarn Sulak has long been an exemplary model of the kind of bodhisattva we need today, combining the traditional Buddhist emphasis on personal transformation with the social engagement necessary now. His contributions have been too many and too important for me to summarize, but it is difficult to imagine contemporary Thai/Theravada Buddhism without his influence.
Today the three poisons of greed, ill will, and delusion have been institutionalized into neoliberal capitalism, intolerant tribalism, and toxic media manipulation. If Buddhism is to avoid becoming an escapism that does not help us understand and respond appropriately to the crises of our time, we need many more figures like Sulak, whose passion for social justice applies Buddhist teachings to the great challenges that face us today. The insight and courage that have informed his life and work will continue to motivate engaged Buddhists for generations to come. May he continue to teach us and lead us for many years to come!
David Loy
[/et_pb_accordion_item][et_pb_accordion_item title="Dexter Cohen Bohn" _builder_version="4.8.2″ _module_preset="default" open="off"]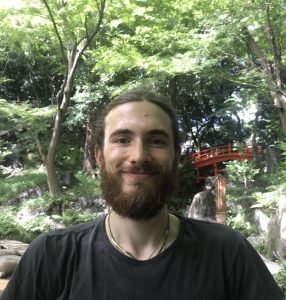 Stepping off a wobbly raft onto Wongsanit Ashram land in January 2020, it slowly dawned on me that I had entered an entirely new dimension. This realm was populated by courageous, reflective and compassionate beings that had all taken inspiration, in one form or another, from Ajahn Sulak Sivaraksa. Since that time I have come to call many of these beings my kalyana mitta and, like them, drawn profound motivation to work in service for the betterment of society from both Ajahn's writings, presence and wide sphere of friends.
In particular, it was Ajahn's skillful deflation of myth and ritual in 'Buddhism with a small B' that first brought the beauty of social engagement to light for me through the lens of practice. The richness of this synthesis has continued to unfold in marvelous ways as mentors, friends and colleagues have shared with me their own paths of mindful action informed by Ajahn's influence.
Beyond what Ajahn says and writes, I've learned it is often how he communicates that leaves the lasting impact. Speaking Truth to Power is a fiercely noble act that demonstrates an unwavering commitment to integrity and justice despite its ramifications. As a young man waking up to the world of structural violence, Ajahn's example has offered me important guidance for how to utilize language as a powerful tool of non-violent discourse.
As Ajahn is now 90, I feel immensely grateful to have crossed paths with his living legacy and to have been given the opportunity to share his wisdom with yet another generation of youth determined to cultivate harmony from the many seeds of peace he has planted over a lifetime of service.
Dexter Cohen Bohn
Bangkok, September 2022
[/et_pb_accordion_item][et_pb_accordion_item title="Dr. Chandra Muzaffar" _builder_version="4.8.2″ _module_preset="default" open="off"]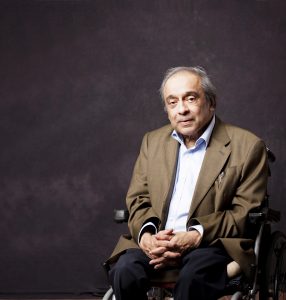 It is with great pleasure that I pen a few words of kalayanamitra to Ajarn Sulak on the occasion of his 90th birthday. Happy birthday dear friend. May you enjoy good health, much happiness and blessed contentment for many, many more years to come.
I have known Sulak since the early seventies. He was a young activist then championing causes related to consumerism and the environment in Siam as he has always called his beloved homeland. Even at that time his concerns were not confined to Thailand. He spoke and wrote about Buddhists and Buddhism in the larger global context.
What struck me about Sulak at that time was his attempt to draw upon the eternal, immutable values and principles of his religion, Buddhism, to resolve the challenges of the contemporary world. He realized at a young age that untrammelled consumerism would distort, and ultimately, destroy society. It would not only create huge disparities in society but also enable a small, rapacious, greedy minority to suffocate and strangle the majority with its wanton desire for wealth and power.
This is why Ajarn Sulak was from the beginning an advocate of a modest, moderate lifestyle for all. The basic needs of everyone should be met but people should not be trapped in vulgar ostentation. We must all learn to live in harmony with nature and ensure that the ecological balance is not upset in any way.
As an extension of his thoughts on balance and harmony, Sulak was an early opponent of the arms race and militarisation. Buddhism would always remain a foe of nuclear weapons and other weapons of mass destruction, he argued. Sulak was consistent on this.
He was also consistent about peace and harmony between the Buddhist majority and the Muslim minority in Thailand. While he recognised the importance of the minority preserving its identity and its need for a degree of cultural autonomy, Sulak also understood why protecting the nation's sovereignty and territorial integrity was imperative. By the same token, he also valued democratic norms such as the freedom of expression and the right of dissent.
For his commitment to these norms he paid the price. He was charged on three occasions for allegedly violating the Thai law on lèse-majesté. He was acquitted on all three occasions. In the larger struggle for Thai democracy in the last few decades, Ajarn Sulak has been an important figure.
At the personal level, I have always found Sulak to be affable. He is warm, kind and generous. Those who know him well will also acknowledge that he is witty and funny.
Finally, what would be Sulak's legacy? More than most other activists, he has succeeded to a great extent to apply the perennial wisdom in Buddhism to the present. Others are attempting to do the same vis-à-vis their own philosophical traditions. I regard these endeavours as vital for the future of humankind. Sulak in that sense is an intellectual pioneer who is ahead of his time.
Dr Chandra Muzaffar
President, International Movement for a Just World (JUST)
Kuala Lumpur, Malaysia.
17 September 2022
[/et_pb_accordion_item][et_pb_accordion_item title="Gregory Kruglak" _builder_version="4.8.2″ _module_preset="default" open="off"]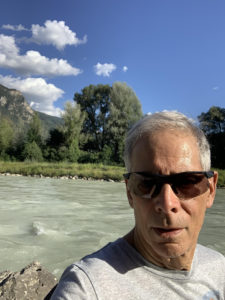 Celebration for Ajarn Sulak's 90th Birthday
I first met Arjan Sulak through his friend and my mentor Lodi Gyari Rinpoche. As a Westerner introduced to the dharma through Tibetan Buddhism, I saw the great renunciates such as Milarepa as inspiring role models. Theirs was a path of renunciation and contemplation leading to ultimate realization flowing from compassion and wisdom.
Early in my journey I faced a situation that may be familiar to many. It appeared at first as a contradiction, but upon closer examination, there was no contradiction at all. In a world of dukkha, I was inspired by the life stories of so many great masters working unceasingly for the ultimate liberation of all sentient beings. But this left me with many questions about the reasons for conventional suffering, much of which flowed from human ignorance. Was there a path that could embody both the quest for ultimate liberation but also help alleviate worldly suffering, especially the human-induced variety?
I suspect that for Arjan Sulak, inner transformation and alleviating worldly suffering are as inseparable as breathing in and out. I just needed to work through a little karmic baggage before that became obvious. I owe a huge debt of gratitude to Arjan Sulak and to all the Kalyanamitra in our INEB community who walk this path with unstoppable determination manifesting through compassion, grace and humility.
Arjan Sulak, like other great contemporary and past teachers, dares to plunge into the muck of samsara to alleviate suffering and heal our planet, but without ever losing sight of the sources of suffering as well as the antidote taught by the Lord Budddha. Arjan's life of courage speaks to all of us in the communities of engaged Buddhism and I am forever grateful for Arjan's guidance by example through his long and uncompromisingly well-lived life.
Gregory Kruglak, Ph.D
The Bridge Fund
[/et_pb_accordion_item][et_pb_accordion_item title="Hans and Wallapa van Willenswaard" _builder_version="4.8.2″ _module_preset="default" open="off"]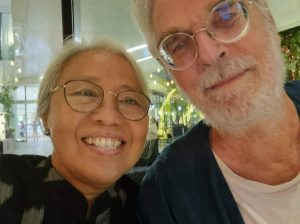 Sulak Sivaraksa – Social Innovator
The man who always makes changes possible in his own term
Today 'social innovation' becomes the jargon we can't miss. But what we are going to write about Ajarn Sulak as a social innovator is true to the kernel. Look into his life journey, no single moment that Ajarn didn't create things new. He started his bookshop Suksit Siam 5 decades ago in a different manner of its kind to facilitate diverse and creative space for book talks mainly on democracy and freedom of expression. And immediately after that his publishing house and book distributor became the infrastructure for writers of progressive ideas and thoughts. The range of books he has introduced to Thai society is real food for thought such as engaged spirituality, peace and reconciliation, alternative education, social justice, and so on.
His critical and innovative thinking still spanned into social activism, Ajarn created and co-created many civil society organisations, projects, and initiatives. To mention a few, INEB, Ashram Wongsanit, SEM, Alternative to Consumerism, Ariyavinaya. Above all Ajarn always sees the enthusiasm and power of young people and always has given so many opportunities to the new generation right at the beginning of his social movement.
Internationally renowned as a charismatic speaker, often shocking and moving audiences, he is also known as the person who gently demonstrates not to take events too seriously and inviting fellow participants to go for a walk rather than getting glued to their conference seats. His walking stick evoking small side events like a magic wand.
Ajarn Sulak's world is marked by deep respect for and thorough knowledge of Siamese culture. With a critical eye on persistent Western dominance. His sense of synthesis prompted him to open a vista of contemporary understandings of Buddhist teachings. By "living" simplicity, generosity, and insight. In a manner that still guides generation by generation in navigating the sharp contrasts between tradition and the urgent calls to address contemporary challenges without escape.
Ajarn Sulak was awarded many international prizes including the Right Livelihood Award, the Gandhi Millennium Peace Prize, the Niwano Peace Prize and more. But the real award is living a healthy long life with his extraordinary wife Nilchawee at his side, his family, the diverse "Sathirakoses Nagapadipa community" – to which we happily belong – and, in this context, reaching the most respectable age of 90 years.
With deep gratitude and love. We wish Ajarn Sulak still many years of vigour, clear mind and joy.
Hans and Wallapa van Willenswaard
INI / Right Livelihood College Bangkok
[/et_pb_accordion_item][et_pb_accordion_item title="Harsha Navaratne" _builder_version="4.8.2″ _module_preset="default" open="off"]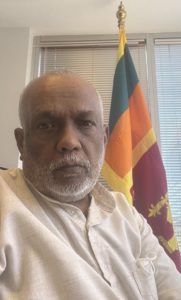 With India getting its independence from the British colonization, most of the South and South Asian countries were influenced by its independent struggle as an awakening of national pride. Going away from westernized social order, during the next decades many national leaders followed the path of Mahatma Gandhi's message of Truth seeking and non-violence on nation building. This was a great wave passing through most of our countries and communities- parallel to socialist student movements and labour groups which continued with liberation movement influenced by Soviet and Chinese success stories. However, this social movement was more attractive to people who were looking for genuine social change and home grown answers for their challenges and hoping for a great future. That's how a few of the great teachers came as leaders of social movements and gave birth to dynamic social movements in our part of the world.
In a rural village and at his ancestors' boat house Ajarn Sulak invited a group of his kalyanamitra to have a dialogue on his vision and gave the birth to the international network of engaged Buddhist movement. Today it's been known by other faith-based organizations, social movements, academics and activists as a genuine platform for understanding and carrying out open dialogue on social and political issues, and as a network looking for opportunities for the way forward. Among other leaders and gurus, Ajarn Sulak comes out as a very rare breed: his open mind, directly confronting any issue or person without any fear, intellectual contribution for development literature, and building up an organization and also younger leaders without taking any credit or ownership. As per my forty years of experience in social movements, Ajarn Sulak takes the first place as a leader who has a real, genuine commitment to his people, country and the world community without expecting any benefits. He builds and hands over and moves on in his life as a pilgrimage, which reminds us how Mahatma Gandhi spent his life and said "my life is my message."
Today with the on-going political crisis, economic downturn, environmental disasters, deteriorating democratic values, institutions and structures; the path and message given by Ajarn Sulak is so important for younger generations and activists to learn and follow. He has passed through most of his life with a total commitment to his vision and mission. The biggest birthday present for him is to learn and follow his message and commit ourselves for social activism.
Ajarn Sulak, Happy Birthday!
Harsha Navaratne
Chairperson
INEB's Executive Commitee
[/et_pb_accordion_item][et_pb_accordion_item title="Jill Jameson" _builder_version="4.8.2″ _module_preset="default" open="off"]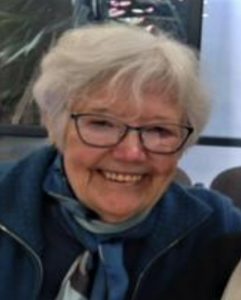 To dear Ajarn Sulak,
Wishing you a very happy ninetieth birthday, and with gratitude for your huge contribution to engaged buddhist practice and our network of Kalyanamitras. I have deeply appreciated my involvement with INEB over the last thirty years, and the deep friendships formed. I see these many friendships as Kalyanamitras, based on our shared dharma practice and our vision of a world free from structural and cultural violence. I also have deeply appreciated the many forums and opportunities initiated by you, Sulak, crossing many divides such as interfaith dialogue for peace and sustainability, reaching out to our Muslim brothers and sisters, the Spirit in Education Movement, dialogue with the World Bank, and supporting gender justice and diversity. At such forums and conferences initiated by INEB, as Kalyanamitras, we have also had opportunities to share experiences and support each other across common concerns.
Having been actively involved with Buddhist Peace Fellowship in Australia some years ago, I especially appreciated meeting my non-Western brothers and sisters and learning from them, as well as having opportunities over the last 25 years to offer peacebuilding and conflict transformation workshops in Myanmar and India through our Network. It was through BPF, Sulak, you once visited Australia and gave a talk to participants at the Trades Hall Council, where BPF at the time was located. You next gave a talk at Melbourne University along with other Thai academics. As a prolific writer and communicator, your words and support for social justice and small 'b' buddhism, will live on to inspire future generations.
Wishing you well in your nineth decade, good health, peace and joy.
With deep bows, and with immense gratitude for your inspiration and for our Kalyanamitras.
With love,
Jill Jameson
[/et_pb_accordion_item][et_pb_accordion_item title="Roshi Joan Halifax" _builder_version="4.8.2″ _module_preset="default" open="off"]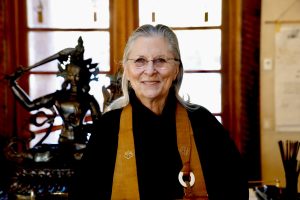 Ajarn Sulak Sivaraksa's brave and brilliant life has touched the lives of countless men and women across the world. He taught us not to compromise. He taught us to be brave. He taught us to stand in principles. He was always a man of his word, a man of uncompromising peace, a social transformer, a grass roots activist, a humanitarian, whose vision was directed toward social and environmental transformation for his people, his land, his country.
I met Ajarn Sulak through the International Network of Engaged Buddhists, an organization which he founded. He was close to my second Zen teacher the Venerable Thich Nhat Hanh. Thay had great respect and affection for Ajarn Sulak. They were very different men in temperament but united in their vision of the realization of wisdom and compassion through the dedicated practice and study of the Buddhadharma.
Ajarn Sulak has long been clear that delusion is the true root of suffering in our world today. And delusion is what feeds and drives violence and consumerism. One of the paths of transformation that he has long advocated is kalyanamitra, the path of friendship. Whenever I met Ajarn Sulak, I felt the friendship between us was genuine and warm. I knew he could be sharp and critical but what always flowed in our communication was a deep river of kindness and a shared intention to benefit others.
I wish him more years of health and joy in service to peace, in service to our earth.
Roshi Joan Halifax
[/et_pb_accordion_item][et_pb_accordion_item title="Joanna Macy" _builder_version="4.8.2″ _module_preset="default" open="off"]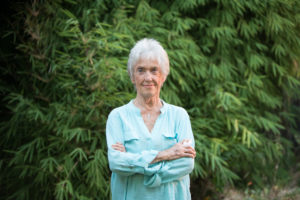 Dear Sulak,
Happy Birthday! There are hundreds and thousands of us grateful for your life! We are grateful for your decades of inspired pioneering work for environmental as well as political justice in Thailand and around the world. You have inspired us with your leadership, helping us all to realize the social teachings of the Lord Buddha.
Blessings on you, my trailblazing younger brother!
Deep bows always,
Joanna Macy
[/et_pb_accordion_item][et_pb_accordion_item title="John Ralston Saul" _builder_version="4.8.2″ _module_preset="default" open="off"]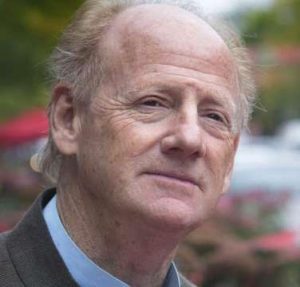 Dear Sulak,

How fortunate we are that you are with us – a constant example of spirituality, ethics and commitment to a better life for all. And let's not forget that living actively on those three fronts, as you always have, could never have been done without simple courage, a determination to stand your ground and say your piece.

As a friend in a distant place, I think often of you and of the example you set. When I am faced by difficult situations, I often think of what you would say, what you would do.

Commitment and public demonstrations of that commitment through words and action – that is a lesson you have taught us all.

This is written from a small island on a great body of water in Canada. I will go to the point facing towards the open water and call out your name over the waves along with my best wishes for your 90th.
John Ralston Saul
[/et_pb_accordion_item][et_pb_accordion_item title="Katherine Marshall" _builder_version="4.8.2″ _module_preset="default" open="off"]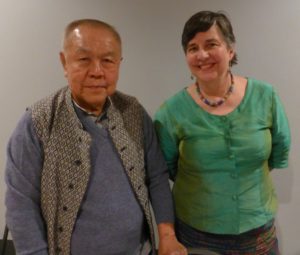 Celebrating Sulak Sivaraksa's 90 years of Love, Devotion, and Inspiration
Among the world's great religious teachers and leaders, Sulak Sivaraksa plays unique roles. He is a true teller of truths to powers, near and far, widely revered, loved, admired, even if they sometimes come with a touch of exasperation. He has long served as an authentic sage and wise leader.
Sulak comes to these diverse and sorely needed roles fearless and fierce as a tiger, loving as a puppy, compassionate as any creature could be, with the legendary wisdom of the owl. He brings home to his listeners what a good Buddhist and a good person should do and be, no ifs, ands, or buts about it. Human to the core, he has lived his nine decades on principles, humor, and a conviction of what is good and right. And as he has played his different roles, he has moved hearts, minds, and some mountains as well. Sulak's often quiet and sober counsel leaves many traces, points to important paths in the complex wilderness of modern life.
As I began gingerly to explore the complex worlds of religious institutions, beliefs, and peoples from the improbable position of the World Bank in 2000, I found a guide and, soon, a friend in Sulak. He was an ubiquitous presence in many a meeting, called to represent one of the world's great faiths, Buddhism, but also to bring its perspectives on the complex challenges facing development institutions and the people within them. Sulak came with a vision that seemed at first very different from that of a passionate development advocate from the World Bank. I would not call his critiques gentle – far from it – and they were expressed in no uncertain terms. The evils of poorly planned dam, too worldly education systems, noise and pollution, were laid out in uncompromising ways. But there was also a spirit of caring, compassion, and engagement that was intricately part of the critique. A spoonful of honey does indeed help the medicine go down!
Thus Sulak brings a lifetime of thought, debate, dialogue, anger, and anguish, but also joy, love, and true happiness to what he says in meetings and in his many friendships. Whether it is at the Niwano prize ceremony in Japan, at Georgetown University, in the World Bank, or meeting with Pope Francis in Rome, Sulak never seems far from his base, his traditional home, scattered with books, hidden behind the bustling skyscrapers of Bangkok. With a warm welcome, he tells stories of his youth, his time as a monk, his rebellions, studies in England, and encounters with young and old, rich and destitute. His love of Siam, his nostalgia for simpler times, shine through even as he traces the lines of values to guide and visions of a better, just future.
Warmest wishes on a momentous birthday, and much admiration and devotion to a dear coconspirator, teacher, and friend.
Katherine Marshall, World Faiths Development Dialogue
[/et_pb_accordion_item][et_pb_accordion_item title="Linda Buckley" _builder_version="4.8.2″ _module_preset="default" open="off"]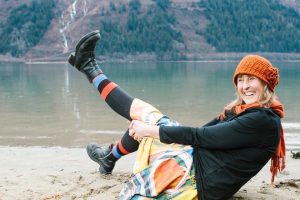 Dearest Sulak!!

I send you greetings and blessings from the shores of Southeast Alaska!!

I have such fond memories of your visit here in Juneau with Moo. I can still picture you in front of our rapidly melting Mendenhall Glacier!

Thank you so much for all you do to further peace in our world. I will always remember the World Sacred Music Festival in Chiang Mai that you organized. When Dixie and I took the stage to perform gospel music the audience looked surprised. Later a few people told us that they assumed performers from Alaska would be Eskimos!

And finally, the pilgrimage to all those remote villages in northern Thailand was life changing in many ways. I hope our paths cross again before we meet in the Pure Land!!

With love and a deep bow,
Linda Buckley
Alaska
[/et_pb_accordion_item][et_pb_accordion_item title="Lokamitra" _builder_version="4.8.2″ _module_preset="default" open="off"]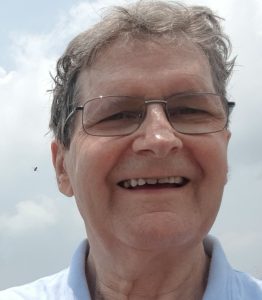 In 1978 my teacher, Urgyen Sangharakshita, asked me to continue the work he had being doing in the 1950s and early 1960s among the previously designated "untouchable" followers of Dr. Ambedkar, who had become Buddhist.
Dr. Ambedkar and Sangharakshita shared one vision, that of the mutual transformation of self and world through the Dhamma; practicing the Dhamma meant not only working on one's own mind, but equally permeating all areas of social, economic and worldly life with the Dhamma. It was this vision which had given my life meaning and enabled me to work in India. For years I looked around the Buddhist world for others who shared this vision. I eventually found such a person in Sulak.
He and I first met in 1998 as the two speakers at a programme arranged jointly by the Gandhi Peace Foundation and Tibet House. I spoke first and talked about the significance for India and the Buddhist world of Dr. Ambedkar's conversion to Buddhism with his extremely marginalised, deprived and discriminated Dalit followers. Before I could sit down after speaking, Sulak got up and there and then wanted to know when I would come to Thailand to talk on this subject.
Sulak wanted to know about Dr. Ambedkar's ideas, the work we were doing, and engage with newly converted Buddhists. I had found someone who not only appreciated the vision we were committed to, but was living that vision himself. This was the sort of friendship, I realised, I had been yearning for, for years. Sulak drew me into the heart of his INEB family, a family of ordinary people from all over the traditional and new Buddhist world, engaged in social action and transformation on the basis of their commitment to the Dhamma, a family permeated by mutual respect and a spirit of equality. As such it has been for me over the years, a source of great sustenance and encouragement.
The benefit has not only been for me. We have held two INEB conferences at Nagaloka in 2005 and 2016. In the first conference, our local Buddhists experienced a sense of equality and respect from INEB members that they had hardly experienced before from foreign Buddhists; they experienced the empowerment that the practice of Sangha can bring. The second conference took place on the 60th anniversary of Dr. Ambedkar's conversion and involved Buddhists teachers from all over the world looking at the Dhamma through his most cherished values of Liberty, Equality and Fraternity. This brought an appreciation of Dr. Ambedkar's approach to Buddhism, which was equally empowering; local Buddhists could see their great teacher was respected as such by other leading Buddhists.
Dear Sulak, thank you for your example of tireless activity in pursuance of this great vision; thank you for your fearless honesty; thank you for exemplifying the spirit of equality, which Dr. Ambedkar said was the pinnacle of the practice of Saddhamma; thank you for your inclusiveness; and thank you most of all for your friendship. Please accept our immeasurable gratitude to you as our offering on your 90th birthday.
Lokamitra
[/et_pb_accordion_item][et_pb_accordion_item title="Mangesh Dahiwale" _builder_version="4.8.2″ _module_preset="default" open="off"]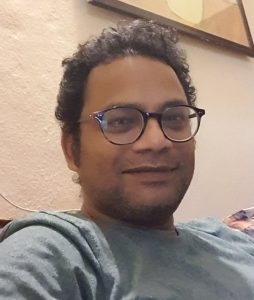 The Friendly Mentor: Sulak Sivaraksa
I first came to know about Ajhan Sulak Sivaraksha in 2001, when I read his idea of "Buddhism with a small b" in one of the leading newspapers in India. The idea of Buddhism for the people and masses struck me immediately, coming from the Ambedkarite Buddhist background, this is what we are seeking in India: buddhism for people.
I had had several opportunities to meet Ajhan on various occassions. Once I asked Ajhan how could he build INEB with such a diversity of not only Buddhists but also of people of various nationalities, religions, and ethnicity. His one word answer was " friendliness."
Ajhan is known for his warmth of heart, friendliness, and his wit that shines over in the communication during a meal or a drink. His intellect is sharp and he developed many analytical tools to understand modern day problems through his vast and extensive reading of Buddhist texts. He is an erudite scholar, but remains humble in his communication with young people embodied the practice of Buddhism with small b.
His love for Indian Buddhist movement is sincere. He has taken a lot of efforts to understand the complexities of Indian situation and engage with it with his sincerity. The modern Buddhism with its unfair inclination towards things psychological, it needed the insight and genius of Ajhan to awaken the people towards the social and political realities and why and how Buddhists must engage with them. The INEB that he founded, but never took explicit personal claim for its foundation, is the movement not within Buddhism, but the core of Buddha's awakening under the Bodhi Tree: the eradication of all forms of Dukkha and the way towards it.
May Ajhan live long!
Mangesh Dahiwale
[/et_pb_accordion_item][et_pb_accordion_item title="Matteo Pistono" _builder_version="4.8.2″ _module_preset="default" open="off"]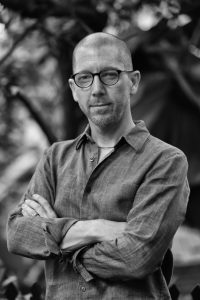 Dear Ajarn Sulak,
It was such an honor and joy to research and write your biography, ROAR: SULAK SIVARAKSA AND THE PATH OF SOCIALLY ENGAGED BUDDHISM. I want to express deep gratitude to you for allowing me to live in your Siamese home during those years, to travel with you across Asia, Europe, and North America, and to witness your elated moments when meeting old kalyāṇa-mitta and watch you experience deep sadness when they passed away.
One of the aspects about you which I deeply respect is how you encouraged me to write about those parts of your personality or actions that were not in line with the Dhamma. You wanted an accurate picture in ROAR of you as a Buddhist practitioner, social philosopher, and husband and father who was simply trying his best but sometimes fell short of his ideals. You even asked your closest kalyāṇa-mitta once to publish a book about all of your weaknesses! Indeed your ego sometimes swells and you might even lash out verbally—as you did on occasion with me—but your commitment to the Buddha's teachings and your spiritual friends always found a way to course correct you. I deeply admire how you welcome criticism of you from your spiritual friends.
For most of us writing to you in this volume, you are our eldest-most kalyāṇa-mitta. Our respect comes not just because of your seniority, but because decade after decade, you have been a steady rock upon which we could lean until we were ready to strike out on our own. You never held any of us back when we wanted to leave your orbit. And you always welcomed us back into your courtyard for tea, or red wine, when we chose to come back.
As my time with you during the writing of ROAR extended for those years, and now in the time after publication, I've come to appreciate how much you taught me about about kalyāṇa-mittatā. How many times did I hear you stress the importance of maintaining spiritual friends! You often quoted Half of the Holy Life Discourse (Upaddha Sutta) when the Buddha's disciple Ananda asks him whether having spiritual friends is "half of the holy life." The Buddha responded, "Don't say that, Ananda. Spiritual friendship and admirable companionship are actually the whole of the holy life. When a monk has admirable people as friends and companions, he can be expected to develop and pursue the noble path to awakening." You always followed up with your own commentary, saying "Spiritual friends will always tell you what you don't want to hear." Your dutiful commitment to be a spiritual friend to everyone, even those who would rather not have had your critical advice, is an example for all of us.
Thank you for your generosity, dear Ajarn. Thank you for example, dear kalyāṇa-mitta. Thank you for being Sulak!
Your kalyāṇa-mitta,
Matteo Pistono
California 8/29/2022
[/et_pb_accordion_item][et_pb_accordion_item title="Phakchok Rinpoche" _builder_version="4.8.2″ _module_preset="default" open="off"]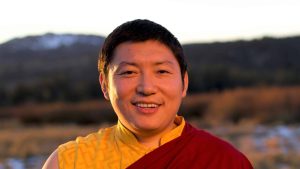 On this joyful occasion of Ajarn Sulak's 90th birthday, I would like to take the opportunity to remember his great kindness. And, to express my gratitude for his activity and achievements, especially those that benefit beings and dharma and those that keep all the engaged Buddhists connected as a global network, like many streams joining the activity of one river.
I see Ajarn like the great Mekong, or Yangtze River, journeying to the ocean and bringing all the other smaller rivers and streams together to flow as one; like all of us connected to Ajarn who come from different backgrounds yet belong to the same practice and the same dharma.
I remember meeting Ajarn Sulak through my late father-in-law, Lodi Gyari Rinpoche. Rinpoche used to tell me stories about what Ajarn is like and what he does for others. And having seen and heard of his activity over many years now, I can see that I am witnessing something like a story among the Jataka tales, in which great bodhisattvas benefit beings in many different ways.
The great fruition of a variety of inspiring and interconnected past aspirations that have come together in Ajarn's vast capacity to make immense use of his precious human life to benefit dharma and beings. Ajarn Sulak is truly putting everything: body, speech, mind and everything else into starting and maintaining such great works.
On behalf of the people of Nepal and the global Vajrayana sangha who follow Guru Padmasambhava's teaching, I would like to extend many happy birthday wishes and our deep and immense gratitude to you, Ajarn. I truly appreciate what you have done, what you do for all of us. Whatever wishes you have, may they, without any obstacles, be fully and effortlessly achieved. And, may all the Buddhas, Bodhisattvas, Arhants, and our beloved Mahaguru bless you and your activities.
Phakchok Rinpoche
[/et_pb_accordion_item][et_pb_accordion_item title="Sanat Kumar Barua" _builder_version="4.8.2″ _module_preset="default" open="off"]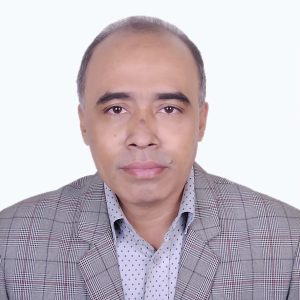 Ajarn Sulak- A Heroic Messenger of Peace and Holistic Development
In 2009, I had the privilege to participate in the INEB Biennial Conference in Chiang Mai, my first time visiting Thailand. At the MCU (Mahachulalongkornrajavidyalaya University) meditation centre, I met Engaged Buddhists and Kalyanamitra along with the conference inauguration speaker, a bold Thai intellectual who introduced himself as Ajarn Sulak, mastermind of the socially engaged Buddhists network. Later deeply listened to him and followed his visionary leadership. It was highly inspired, as I have reached out to the right person who can actually guide the Kalyanamitra by just motivation and following the Buddha's noble way of life.
My curiosity about the most kalyanamitra was raised and started to follow his holistic way of teaching along with the past and current trajectories. I honestly came to admire his visionary outlook and bravery just speaking for social change on topics from autocracy to civic rights. Our Buddhist leaders and other faith leaders rarely play just roles due to lack of personal boldness or cannot speak out against the powers that be. But Ajarn Sulak is a unique intellectual who usually speaks the right words even in the hard times. It's a different identity we observe from his life approaches as a renowned promoter of freedom of speech and free thinker both in religious freedom or rights-based approaches. He guides us with right actions at the right time when no-one bravely advances or hesitates for just speaking and in actions. He advocates for world peace, peaceful togetherness, religious liberty, fraternity, mindful economy, environmental justice, human rights, just approach for the future world which we rarely find in other holistic leaders. His advocacy uniquely expresses his desires as the most influential free thinker, writer, critic and holistic leader we need most in present and future times.
For 14 years I have been learning from his vast knowledge and experience which actually changes us to be more devoted to sustainable peace, faith and development, and peaceful togetherness with different spiritual and religious people working under INEB's Network. We need Ajarn Sulak for promoting structural changes for common benefits and reducing human made suffering from the current consumerist-oriented world.
May our spiritual leader Sulak pass his 89 years with sound peace and happiness!
Our prayer is for the happiest and most auspicious 90th birthday for the beloved INEB founder!
May Ajarn Sulak live long, stay with us for many years!
Mostly devotedly yours,
Sanat Kumar Barua
General Secretary
Atisha Dipankar Peace Trust Bangladesh
INEB Executive Committee Member
[/et_pb_accordion_item][et_pb_accordion_item title="Lahpai Seng Raw" _builder_version="4.8.2″ _module_preset="default" open="off"]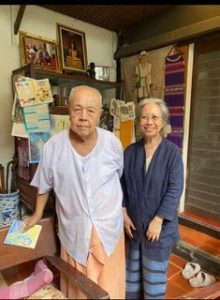 Sulak Sivaraksa: A Happy Reflection on Sulak's 90th Birthday
I rejoice in having the opportunity of honoring Sulak's 90th birthday with a short tribute. Over thirty years have passed since we first met and still we are alive, enduring waves of political turmoil and emergencies around the world and finding ourselves still under military rule.
In my journey through life, passing though various challenges and disparities, I am extremely grateful that I was able to get to know Sulak at the outset. Sulak enjoys what he is doing: and he is fearless.
To give one example. In 1994, the military State Law and Order Restoration Council signed a contract to sell natural gas from the Yadana field in the Gulf of Martaban to Thailand. According to this agreement, Thailand would pipe the gas across the territories of the Mon and Karen peoples to its power plants in Kanchanaburi and Ratchaburi provinces bordering Myanmar. Two oil companies, Total of France and UNOCAL of the USA, were selected to operate the 649-kilometre pipeline. Negligible compensation, however, was set aside for those uprooted.
Ever the man of action, this caused Sulak to lead a peaceful demonstration saying: "Enjoying wealth from other people's blood is immoral". I well remember the photograph of him in a Bangkok newspaper swimming in a pond at a Huay Kayeng forest site shortly before his arrest for allegedly obstructing the gas pipeline. Clearly, Sulak was comfortable in the water and enjoying himself. I knew that we did not need to worry about him. At that moment, Sulak triggered an internal dialogue with myself. This is a metaphor for how he approaches life. He accepts the consequences of the decisions that he has made. I wished then and there that I should be the same, come what may.
There are so many reasons why I am grateful to Sulak. He is generous with his time, his friends and his colleagues. This amity allows for a free flow and inter-mixing of cultures that reaches beyond borders. The impact is also vibrant because it inter-connects many others. The late Dr Michael Baumann first brought Sulak into my life, and Sulak introduced me to further networks, greatly enriching my life in the process.
Over the years, our lives have inter-connected in so many remarkable ways. Even the meaning of "Metta", which I found from a book of lectures given by Ashin Thittila at the Wong Sanit Ashram library, reassured me of our purpose: that the work of the Metta Development Foundation transcends religion and culture, encompassing all beings in Buddhist concepts as well.
In expressing my appreciation to Sulak, it is impossible not to mention my profound gratitude to his family members, his colleagues and friends, especially Sulak's wife Nilchawee who demonstrates how to carry worries and concerns in the most serene and dignified way. Most of us take the best of Sulak and leave the daily challenges to his family members and close associates. I am thus expressing my gratefulness to you all for providing Sulak all the space he needs and let him pave the paths for all beings. I count His Blessings and thank you all for allowing me to celebrate together the exceptional character of Sulak on this very special day.
With and from Metta
Lahpai Seng Raw
[/et_pb_accordion_item][et_pb_accordion_item title="Shui Meng Ng and Sombath Somphone" _builder_version="4.8.2″ _module_preset="default" open="off"]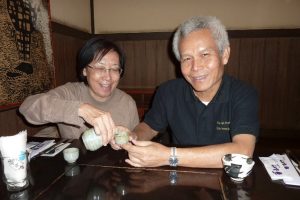 Ajarn Sulak Sivaraksa is a dear friend and a mentor to Sombath Somphone and myself for nearly 40 years.
Back in the 1980s, when Sombath and I got to know Ajarn Sulak, we had just moved to Laos. Our intention was simple – to support the family and to contribute to the rebuilding and development of the war-devastated Laos. It was not an easy journey, but Ajarn Sulak has always been there to provide practical advice, moral support, and encouragement. More importantly we learned from Ajarn's model of Socially Engaged Buddhism that proved to be very appropriate for Laos, also a Buddhist country.
Over the past 40 years Sombath and I, like so many of his Kalayanamitr, we have been constantly inspired by Ajarn Sulak. His life and work testifies to his dedication for social justice and his fearless stand in face of political persecution to speak out openly and act unwaveringly in defense of the poor, the oppressed, and the marginalized, no matter where they are.
He showed the way, especially for the young, by example and through his writings and speeches, on how to channel their energy and activism in the course of social justice through mindful engagement, real-life experience, and dedication to the pursuit of the truth without violence.
Through his organizations Spirit in Education Movement (SEM), and International Network of Engaged Buddhists (INEB), he has also spearheaded a real social movement for the building of a more compassionate, equitable and peaceful world.
Ajarn Sulak is truly an intellectual giant, a great teacher, and a wonderful human being.
On the occasion of the celebration of Ajarn Sulak's 90th birthday, Sombath and I wish Ajarn Sulak blessings for good health, great happiness, and peace.
[/et_pb_accordion_item][et_pb_accordion_item title="Dr. Tashi Zangmo" _builder_version="4.8.2″ _module_preset="default" open="off"]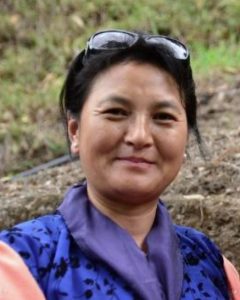 My first and overriding impression of Ajahn Sulak Sivaraksa, in the time that I have been fortunate to know him, is as a father figure to all who are around him. I have known Ajahn Sulak for the past twelve years, since I first attended the INEB conference in Chiang Mai in 2009. Until that time, I had not realized that even though I am a Buddhist, I had taken peace, compassion, and loving-kindness for granted, and had not really taken the time to examine them more deeply in order to consciously apply them in my life. However, it was through attending INEB conferences and workshops that I learned to become a socially engaged Buddhist and to mindfully apply the wisdom and practices of this path in my everyday life and work.
The other area in which I have learned from Ajahn Sulak is through reflecting on the values of kalyanamitra. I have observed that INEB places great importance on this and have come to realize that is one of the very reasons that I feel so honored to be a member of the INEB family. Having been born and brought up in a very religious family in an extremely spiritual country like Bhutan, I grew up hearing and valuing the importance of kalyanamitra. However, after I left home for school and came of age in many different social and cultural circumstances, I lost sight of this vital wisdom for some time during my teens. Nonetheless, working for the Bhutan Nuns Foundation (BNF) and being associated with organizations such as INEB has given me many opportunities to rethink, to reflect, and to walk the talk by embracing these values once again.
I have always felt fortunate to be connected with INEB for more than a decade, even though, often times, I felt guilty for not being as actively involved as I would have loved to. However, I am happy to say that with my current work heading the BNF, I am able to follow the example of INEB's values in whatever actions I take. For this, the credit goes to Ajahn Sulak and his vision and the mission of INEB, and for giving us all the opportunity to be a part of it. I am sure that many of us who have been a part of the INEB family must feel the same, and so I thank Ajahn for touching so many lives around the globe.
When I first met Ajahn Sulak, he was already in his early 80s, yet he was so active in serving humanity that he inspired me and made me wish that when I reach the age of 80, I must also live as long as him and serve others in the way he has done. Today, I can see that he still possesses that same positive energy. Looking at his tireless service, I once again make it my wish and aspiration that if I live to be 90 years of age, I too must serve humanity in the same way that Ajahn Sulak continues to do, regardless of his age.
I offer my prayers and make my wishes that Ajan Sulak may live many more years and continue to make a difference in this world of chaos. We need more people like Ajahn who can stand with us and guide us so that we may emulate their blessings and follow in their footsteps.
Long live Ajahn Sulak! May the Buddha continue to bless you and your work.
Dr. Tashi Zangmo
Executive Director
Bhutan Nuns Foundation
Thimphu, Bhutan
[/et_pb_accordion_item][et_pb_accordion_item title="Ted Mayer" _builder_version="4.8.2″ _module_preset="default" open="off"]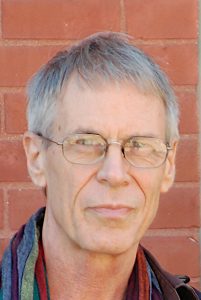 Dear Ajan Sulak,
Happy 90th birthday! I'm grateful I have been able to know you and learn from you; grateful I could work on projects inspired and supported by you and your organizations. This has been a huge gift for me. I believe you are one of the great people's leaders of the 20th and 21st centuries. In all the time I've known you, you have been clear that any real change must take place both within us and in the structures of society. And you've been very creative in expressing this. You have also stood for the ultimate unity of all human beings and the need to respect diverse traditions. Your article "Buddhism with a Small 'b'" is a wonderful expression of this, and that's why I share it with students every year.
What's great about you is that you don't simply talk. You work very hard to set things in motion once you see a possibility. The number of projects you've started, funded, or inspired is amazing! And I think this is why all the students and young adults I've taken to meet you come away inspired. They see that work for genuine change is possible when they consider your life. You are also real with them, and admit your mistakes. And you're funny. Like when you said during the Iraq War that we shouldn't blame others too much. We should also look within ourselves for the roots of both personal and social suffering. "Even George Bush has Buddha nature," you said, and then muttered immediately, "Very difficult to imagine." All the students laughed, while pondering how both comments might be true.
Just a few days ago in my online class, a young civil society worker inside Myanmar said he was reading your biography, and he so admired your courage in speaking out. And then I wanted to cry when he talked very sincerely about how he wanted to do the same, but how difficult it is to speak out honestly when you can be killed for doing so. And this is of course true of Myanmar now. I know you care about people like him, and have done much to support grassroots change not only in Thailand, but also Myanmar, Laos, and elsewhere. And your support extends to protecting and aiding individuals in practical ways. It's not abstract. For this I admire you tremendously.
Sometimes I think you would have liked to be a philosopher king. If there is any truth to my perception, I don't blame you at all. Who would not want to be in charge when so much is going wrong, and when there is such waste and despoliation of all that is precious, including human minds and human lives. And especially when you have so many good ideas, born in the alchemy of your many relationships and networks.
Live long, Ajan! You are beloved by many! And when you are ready to rest, that rest will be well-deserved.
With love,
Ted Mayer
[/et_pb_accordion_item][et_pb_accordion_item _builder_version="4.8.2″ _module_preset="default" title="Uthai Dulyakasem" hover_enabled="0″ sticky_enabled="0″ open="on"]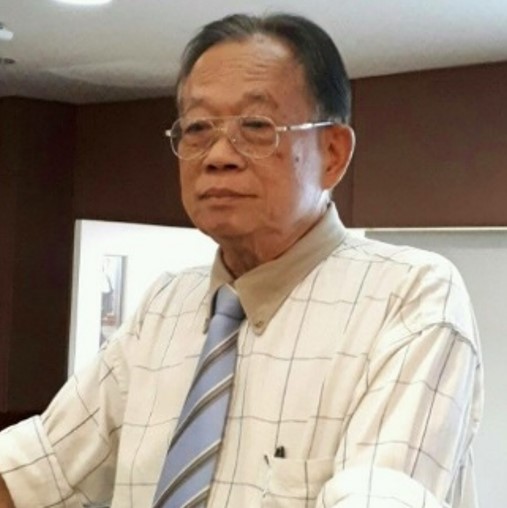 In Praise of Sulak Sivaraksa at 90
For those who do not know Sulak sufficiently well, they may be amazed at his various names as referred by in the media. While some Thais know him as a social critic, a royalist, a knowledgeable historian, others call him an anti-monarchy, a feudalist, a communist, a CIA in disguise, etc. To many foreigners, he is a socially-engaged Buddhist, a Siamese intellectual and a true friend, etc.
However, for his close friends and his students, he is a man of integrity.
As his student, I see him as a man with loving-kindness, open-minded, and a genuine supporter of younger people.
Throughout his working life, he has, and still is, been constantly supporting the younger people who are courageous to speak out and tirelessly seek ways to improve Thai society as a whole or to reform certain social institutions in Thai society. He always respects their ideas and thinking, which more often than not, markedly differ from his own. He is not hegemonic or dominating the younger generation, intellectually and culturally.
Despite his political orientation differs from that of the younger generation, he continues helping them in ways he could possibly do. Even if his family is not considered wealthy, he is always a generous giver both in cash and in kind. More importantly, he always forgives even those who unfairly criticize him.
Many Thais tend to mis-interpret his good intention because he is critical with sincerity. Some people who do not like him take his critical comment as a negative criticism.
Besides, he respectfully praises the distinguished Thais, who contributed with strong commitment for the betterment of Thai society. His recognition of such individuals is not to publicly please them but he intends to motivate the younger generation to see as to how these individuals work and live with dignity.
As for me, he is a good example of an educated man as defined by Socrates. He is also a learned man. More importantly, he never keeps meaningful knowledge for his own benefits, but he willingly shares his knowledge and his thoughts to wider public. I was not a student in his classroom, but I learned a great deal from him through various activities which he supported me to participate in and through informal discussion as well as through constant reading his numerous writings.
Sulak Sivaraksa has keen interest in mass media and education. He himself was an editor of a quarterly and monthly journals for several years and continues writing articles and books up until the present. He also supported some younger people to enter into this profession. In addition, he is a great supporter of alternative educational system. He supports some of his students to run an alternative schooling, which is quite well-known throughout Thailand and overseas. In addition, he also supports some of his students to regularly organize the learning programs for the Thais and non-Thais, who are seeking alternative ways of life.
I believe that only very few people know that he has declared, with the consent of his family, his will and testament to give his own properties to a non-profit organization, Sathirakoses-Nagapradipa Foundation, at time of his death.
If I were to mention about his weakness, which is not uncommon for everyone, he is sometimes unable to control his temper, especially, in public sphere, even in the situation that, in my view, he could have been calmer, given the fact that he realizes very well that human sufferings are caused by ignorance, greed, hatred, and anger, as taught by Buddhism and he is in fact successfully overcoming the first three causes. However, what is good about this behavior is that he becomes calmer quickly after his anger has been expressed and more importantly, he is not spiteful. On the contrary, in private sphere, he is calm, discreet and thoughtful, even when he is challenged or confronted by his students.
In addition, he is sometimes over confident and stubborn, which has led him into unnecessary trouble, especially, his health.
No-one knows how long he will live, one year, two years, five years, ten years or more, but I am certain that he will be the same Sulak Sivaraksa as we have known him all along. Let us pray for his good health. I am confident that he will be remembered forever as a man of integrity and dignity.
Uthai Dulyakasem
Songkran Day 2565
[/et_pb_accordion_item][/et_pb_accordion][/et_pb_column][/et_pb_row][/et_pb_section]